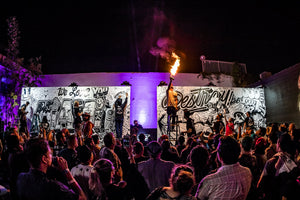 PAINT AND PIXEL BATTLES SINCE '06  
Secret Walls is the world's premier competitive live art event - the battleground where artists come to test their skills and show off their style.
We began in 2006 in the bars and warehouses of Shoreditch, East London. 'SUPPORT YOUR LOCAL ARTIST' was (and still is) the mission as fans came out in the hundreds to cheer on their favorite local heroes of the underground art scene. Hundreds turned into thousands as SECRET WALLS reputation for unparrelled energy and entertainment spread like wild fire. 
16+ years and over two thousand legendary battles later, we have travelled to over 100 Cities in 50 countries, collaborated with some of the world's most iconic brands and built a global network of art world superstars up and coming talent. You've never experienced art like this before. 
Welcome to the Secret Walls Universe!