BUILDING COMMUNITY THROUGH CREATIVE EMPOWERMENT
Secret Walls Academy is our art education platform. We work with schools, youth clubs, museums, community organizations, and brands across the globe to empower new and emerging artists through direct creative engagement.
INSPIRING THE NEXT GEN
As arts education receives less institutional funding, connecting new artists through grassroots community engagement is more important than ever.
GUIDED BY ARTISTS
Every Academy session is led by one or more artists from the Secret Walls network - professionals working directly in the arts space that are passionate about sharing their knowledge and story.
MODULAR PROGRAMMING
Secret Walls Academy has taken place in many forms - both physical and digital - and is adaptable to a variety of spaces, subjects and skill levels.
PAST COLLABORATORS INCLUDE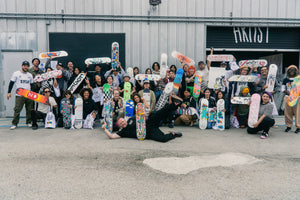 For the 2023 Back to School season, Secret Walls Academy partnered with POSCA and uni to present "uni-Versity", a two week series of workshops and artist storytelling.